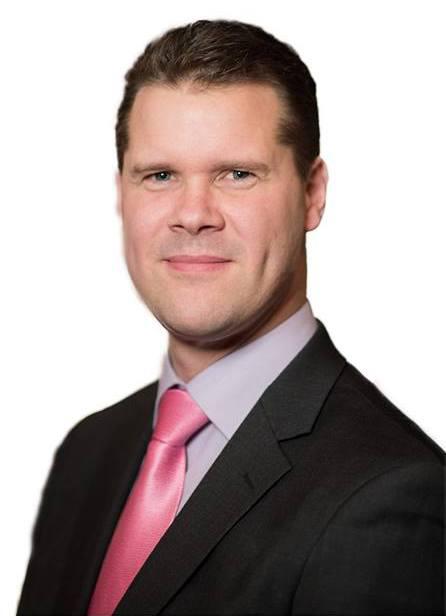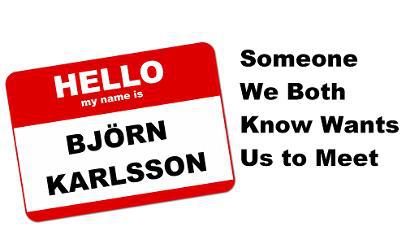 5 ways for us to meet and connect
Meet Björn Karlsson GlobalPeople Connector

"Without any people around the world, our world would be a very lonely place!"
Björn Karlsson BIO ​20180605 The entrepreneurial journey of Björn Karlsson started about 11 years ago when he moved to Stockholm the Capital of Sweden. A few years earlier he had found out about the sales profession and that that was a field that he really enjoyed working with as it was a talkative professional with focus on positivity and self development, two areas that really appealed to Bjorn. Also it was a profession indirect related to economics that Björn since early age had a interest for, as he since very young age was looking for things to profit on in different areas always trying to brainstorm creative ways to make money.
2006 Björn when Björn moved to Stockholm as he was accepted to a Sales School, that was followed with working in different areas of sales from direct door to door sales, face2face sales, B2C sales and B2B sales over phone and with customer meetings. As he grew into the role as a salesman he was reading and getting more and more inspiration about entrepreneurship and about being self employed, working for himself instead for someone else. Beside working with sales in 2007 Björn started a Sunday Success group with a former colleague from a sales company he worked in about a year earlier, knowing working with personal life success habits always will lead to greatness, he invited all his friends to also join. Their interest was quite limited, most people liked the idea but very few really stuck to being 100% dedicated to meet every Sunday at 11.00 to work with their personal success. Most people did join for a few meetings until they found excuses for themselves not to join or they just stop to show up. The only one that showed real dedication was my old sales colleague and future business partner Mattias Zaunschirm. After meeting every Sunday at 11.00 for about a year working with our personal and professional success Reading and learning from Authors like Napoleon Hill (Book: Think and Grow Rich), Bob Proctor (Book: You Are Born Rich, Movie: The Secret), Robert Kiyosaki (Book: Rich Dad, Poor Dad, Board Game: Cashflow 101), Dale Carnegie (Books: How to win Friends and Influence People, How to Stop Worrying and Start Living) and Jeffrey Gitomer (Book: YES! Attitude). We came to an agreement that we should start something every week that could generate a cash flow for us. The first idea we had became our business, we started to sell Goji-berries that we bought from a local China food store that I knew had high quality Goji berries, a berry that I did knew since some years back as I had a big interest in herbs and what effect different foods had in your body when eating, herbs and what could be eaten in nature had been catching my interest since very young age, to that when I was about 25 years old after a few years as a successful Oarsman (Rowing professional for 5 years). Yes then when I was about 25 years old I became very interested in Traditional Chinese Medicine and food as medicine to prevent diseases before they occurred. This knowledge about the Chinese goji berry led to me starting a Health Food company with my partner just when interest for super berries started to become big in Sweden. The Company today named ​www.goforlife.se​ had a goal to reach all people even those that normally never would visit a health food store with super healthy super berries and fruits with many health benefits also being tasty for everyone. Being an alternative to candy that would make you healthy and live longer, of course without pesticides, preservatives, added sugar or any other unhealthy additive all organic, to make
people live a longer and healthy life just by eating healthy super foods. Example: Goji, Mulberry, Inca berry, Dried mango, Pineapple, Chlorella, Spirulina, Acai in total about 30 very healthy super foods.
In August 2013 Björn started a 52 week course in project management that ended in a n employment in the IT & Telecom company Cygate as a project manager, at same time Björn also started a rental company where he started out with renting out things for birthday parties as bouncing castles, popcorn machines and other fun stuff for kids. This company grew parallel with his job as a project manager to include more areas as things for weddings, events and special machines for different purposes.
After about 2 ½ years as a project manager he did "the Jump" and left his employment in February 2017, to be able to focus 100% on being an entrepreneur full of ideas about how to grow his company further and to start new companies in other areas.
Since then Björn has continued to grow his rental-business parallel with that he has started a few new branches and is as well working on other that he will launch within a close future. These have all one common thread, meeting, connecting and giving value to other people, this is something he have been doing for a long time (like most people do), with passion. Realizing lately that connecting people is whats makes him "tick".
Today Björns main income comes from his rental business mentioned above Besides of his rental business Björn have a few ongoing engagements gathering entrepreneurs global (Sweden and South Africa) and local in Stockholm, Sweden, more about them below.
Björn is the founder of a weekly "financial education" event i Stockholm (Sweden) that continuously have arranged events every wednesday since 1 February 2017 teaching financial intelligence through the board game Cashflow 101 Created by Robert Kiyosaki.
May 14 2017 Björn founded Top 1 Peer Group, this is a regurlar video meeting that is held every morning (at 5.30 AM) all week (Monday – Sunday), all year (365 days/year), which Björn has faciltated ever since every morning (today over 385 days consitantly) with participant from Sweden in north and South Africa in south.
These Top 1 Peer Group meetings is a online video-conference that last for 30 minutes every morning, every day of the week, all days of the year on vacations as well as when participants is in other time zones with the motto that "Success Never Takes Vacation" and
that Successful regurlar habits is a key factor for life success no matter what area a person want to be successful in. Each meeting has space for maximum 9 participants to be able to finish the meeting at 6.00 (only taking 30 min of each day). During these 30 min we focus on the 5 most successful habits that most Successful people do every day. 1. Waking up early to get most hours out of each day 2. Reminding that with a smile we fell better inside and that it makes othe people smile 3. Putting us in the right frame each morning by: Dressing for Success & Acting as if we belong, setting a standard for ourself as well as for the other peers in the meeting. 4. Meditating together to clear and sharpen the mind for the day ahead. 5. Reminding ourself by sharing that no matter what happen yesterday there was at least a few good things 6. Telling ourself by sharing what to be thankful for in each of ours lives. 7. Sharing why each of us is a good person. 8. Acknowledge to ourself by sharing what we need help with. 9. Mint Condition ourself with powerful affirmations expressed together with body moving 10.Reading on a book every day, always improving our skills, During the meeting main focus by the moderator are on the participants.
The meeting is worldwide and have for now participants each morning calling in from Sweden and South Africa, as we are on the same time. As he want to grow the meetings he want to find people from all over the world that is 100% dedicated to their personal success and will by the start more groups that meets every morning adjusted to be in early morning in each timezone.
The goal for Björn is to be able to connect more people from all over the world through his local and global meetings, making his business to connect people from all over the world on a larger scale than just through local meeting and early morning meetings, bringing people together from all over the world every day, connecting and creating value for everyone together.
As a lead on Top 1 Peer Group Björn founded March 12 2018 Top 1 Network a International Business Referral Network that meet once a week. Top 1 Network is a International Business Referral Network for givers, the main focus for everyone attending is how they can help others by sharing their network and or knowledge. We call this YOU focus (instead of ME focus) as a "Value First" mindset, which is the main cornerstone of Top 1 Network. Meaning that everyone first "bring value to the table" before they ask others to help them, creating a giving enviroment among everyone. In this giving enviroment most people are more willing to give and share their contacts and knowledge. It is well known that when you regularly meet a person trust is built, when a person trust you and your intentions he/she are more willing to share his/hers contacts with you, knowing that you are a trustworthy and professional person. By meeting once a week trust has a chance to be built with other members, this establishes a closer relationship of trust for future business and for sharing contacts www.facebook.com/pg/Top1Network/events/